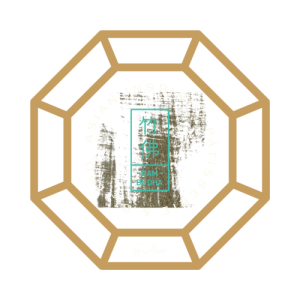 Your Journey into the Asian culinary landscape starts here.
YUMTCHA CONCEPT at Bambudha (loosely translated to drink tea) . It combines the culture of sipping tea and dim sum. Inspired by the colors, aromas & sounds of asian street food cultures, we are bringing real street snacks to you. Made fresh from scratch daily. Be mesmerized with the delectable recreations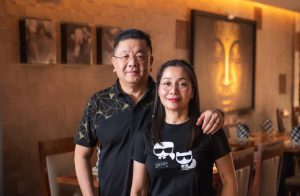 "No food tastes as good than when you share it with the company you have"
Refined Asian Inspired Pâtisserie
But we have gone one step ahead. Borne out of Anne's passion for baking. The dynamism carved out of combining two distinctive culinary WORLDS. The world of Asian culinary diversity and sophisticated European patisseries. A true Yin Yang philosophy applied. The fusion of European flair and subtle flavors of Asia.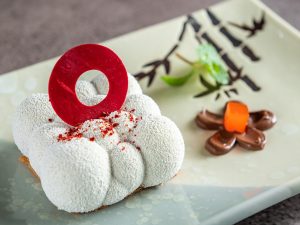 Fresh Ginger Mousse, Sriracha Gochujang & Sichuan Pepper Spiced Black Currant, Joconde Sponge.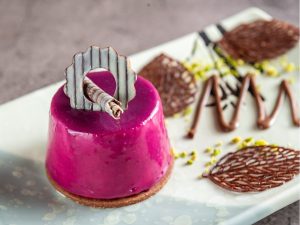 BLACK SESAME, BLACKCURRANT AND CALAMANSI MINI MOUSSE CAKES
Chocolate and hazelnut egg-free short crust pastry, Black sesame and hazelnut financier, Black sesame crunchy layer with
milk chocolate, Calamansi, yuzu and Dulcey caramelized whitechocolate oozing caramel, Blackcurrant and white chocolate
mousse with açaí berry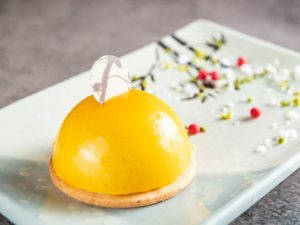 Parmesan Sablé, mango passionfruit and banana crémeux, exotic jam and jasmine tea ganache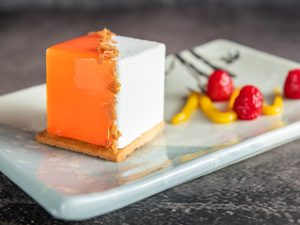 Coconut Mousse, fig white chocolate, rhubarb crémeux, Dacquoise Coco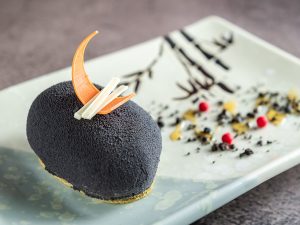 ZEN. MATCHA & BLACK SESAME PETIT GATEAUX
Matcha Sponge, Black Sesame croustillant, Black Sesame Ganache, Matcha Mousse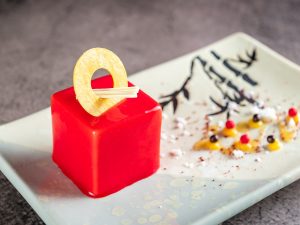 Red Velvet Sponge, Chocolate Crémeux, Cream Cheese Mousse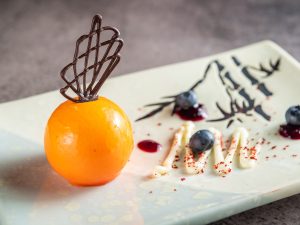 Mandarin Orange Mousse, Matcha Genoise Sponge, Mandarin Orange Jelly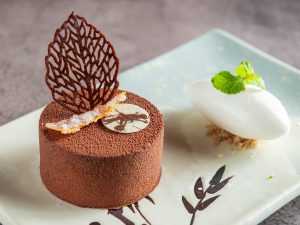 Dark Chocolate Hazelnut Mousse, Mandarin Insert, Roasted Hazelnut.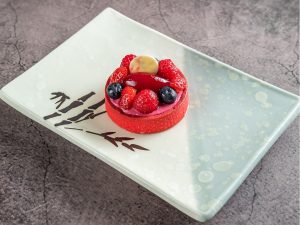 Fresh Beetroot Tart, Almond Vanilla Frangipane, Lychee Raspberry & Rose White Chocolate Crémeux, Lychee Raspberry & Rose Compote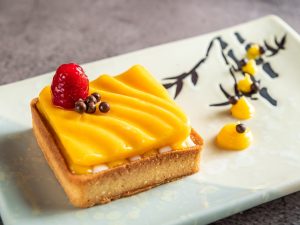 YUZU MANGO & YOGHURT TART
Yuzu Mango Curd, Yoghurt Cream, Matcha Almond Cream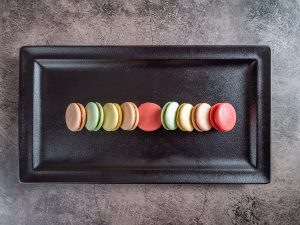 Asian cities are dotted with streets selling amazing snacks . We are trying to recreate the same taste and the feeling that is associated with it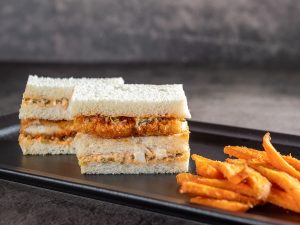 Fresh Hamour Fillet seasoned with herbs & spices, panko crusted and deep fried. Placed between bread slices layered with spicy mayo.
Served with Japanese slaw & fresh sweet potato crisps.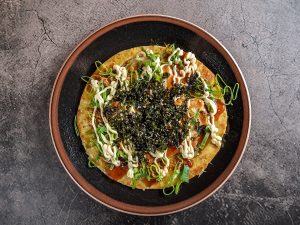 Delightful meat & cabbage pancake topped with rich homemade okonomi sauce mayonnaise & fresh toppings.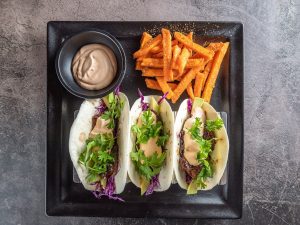 KOREAN BULGOGI BEEF TACOS
A versatile Korean version of tacos. Incredibly fragrant grilled bulgogi beef layered into tortilla alongside avocado slices, purple cabbage and
cilantro drizzled with kewpie mayonnaise and sriracha lime cream sauce.
Fun, harmonious & soulful. Our food has been created with these three critical ingredients in mind. The freshness of produce, the distinctive flavors of spices, the fragrance of the herbs used and the passion behind cooking the dish is supposed to bring out the fun in eating. With varied style of cooking spread across the varied region, it is easy to get lost. Our focus have been to create dishes with a blend of style and taste to bring in harmony to the flavors. We believe that our food should touch the soul.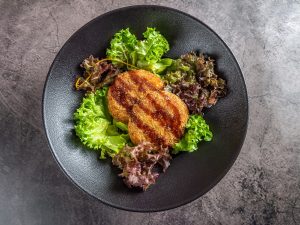 A wonderful mix of salmon, fresh steamed potatoes seasoned with herbs and spices. Panko crusted and shallow fried. Sitting on a bed of mixed salad greens drizzled with tonkatsu and
fresh lime/yuzu dressing.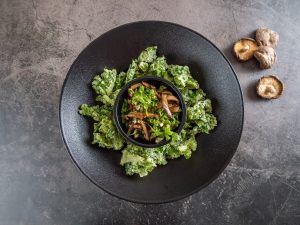 TEMPURA KALE SALAD W/SHIITAKE MUSH, RAISINS, AND ALMONDS
Fresh leafy Baby Kale paired with sauteed shiitake mushroom seasoned with in house dressing, served on a bed of crisp and fluffy tempura kale. Drizzled with raisins and toasted almonds.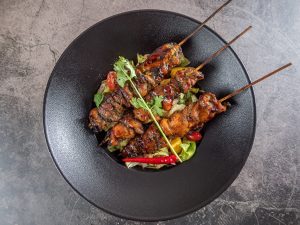 Grilled Lemon Grass Satay Chicken w/ Fresh Pineapple Salad
A Cambodian style marinated chicken on skewers, pan-grilled and served on a bed of fresh pineapple salad.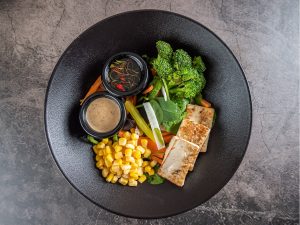 Laughing Buddha Bowl (veg)
A delectable combination of grilled vegetables, seasoned seaweeds, steamed beans & fermented/pickled vegetables topped with some house dressing. Divinely good!!!!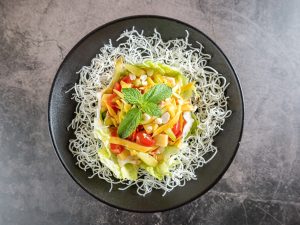 Cambodian Squid w/Green Mango & Chili Salad
Poached squid, intensely spiced with hot chilies, juice of ginger and garlic, an added flavors of Asian herbs and a good dose of lime juice makes this appetizer "CRAZY GOOD"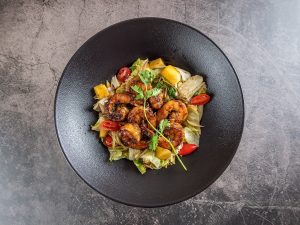 Grilled Chili Prawns w/ Fresh Mango Salad
A plethora of taste & smell encompasses this delightfully grilled prawns accompanied by fresh mango salad.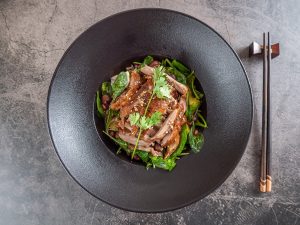 Vibrant Duck. Orange & Pomegranate Salad.
Fresh Tossed Salad with Baby spinach diced orange & pomegranate. Sprinkled with herbs and Asian dressing, layered with roasted honeyed duck.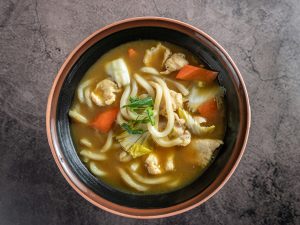 Fresh Udon noodles cooked in a delicate curry spiced broth seasoned with herbs & meat. Topped with fresh cut leeks and toasted sesame.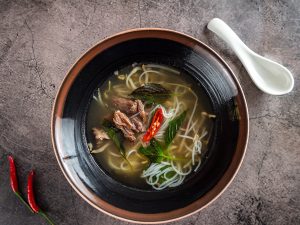 VIETNAMESE BRAISED BEEF NOODLE SOUP
A classic Vietnamese staple. Freshly blanched rice noodles, filled with fragrant beef broth and topped with Asian herbs, beansprouts and braised aromatic beef.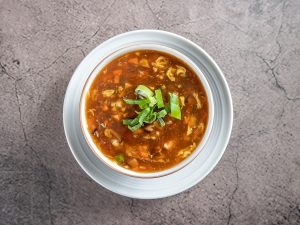 Hot & Sour Soup w/ Beef Chicken or Seafood
A classic Chinese soup. The name says it all.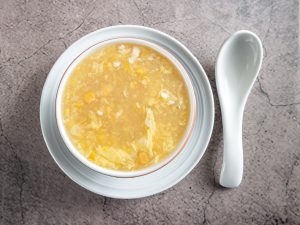 Classic Corn Soup (gluten free)
Cream of corn cooked in rich chicken broth with chicken bits or crab meat and laced with silky egg.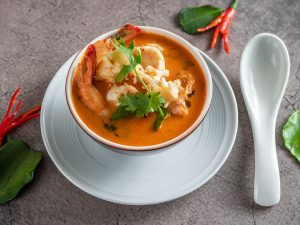 A true culinary delight that Thailand has to offer. Tangy and aromatic soup filled with treasures of the sea and a balance blend of spices and herbs.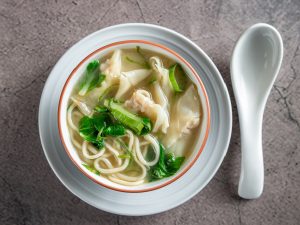 Traditional Cantonese Wanton Soup
Noodle pastries stuffed packed with seasoned chicken & shrimps, slow-cooked in a rich chicken broth, with a hint of sesame and spring onion
Hong Kong Roast Duck Noodle Soup
Herbs & spices infused soup stock poured over freshly made noodles topped with Hong Kong Roast Savory Duck and wok seared Chinese greens Drizzled with toasted sesame served with spiced hoisin sauce.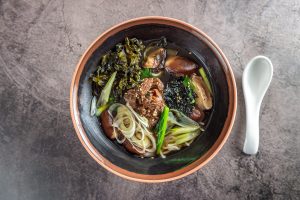 SHOYU RAMEN WITH BRAISED BEEF SHORT RIBS
A classic Japanese staple. Fresh ramen cooked in real broth enhanced with dashi and shoyu and topped with tender braised beef short ribs.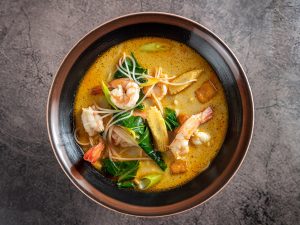 A popular staple food from the Malay straits and Singapore. Home-made noodles cooked in a rich prawn broth infused with spices, herbs and coconut cream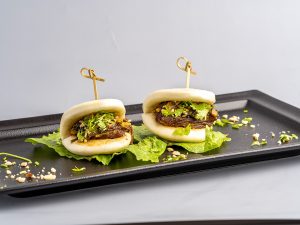 TAIWANESE BAO BUNS W/SAVOURY MEAT & PICKLES
Savoury braised Meat sandwiched between delicate & fluffy steamed "BAO" accompanied with a subtle taste of pickles & cilantro.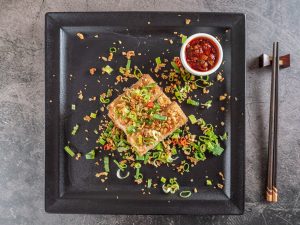 Seasoned turnip shreds steamed, cubed and rice-flour dusted, deep-fried. Sprinkled with crisp burnt garlic scallion and fresh chopped chilis.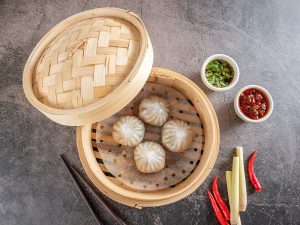 A steamed parcel of joy. Hand crafted translucent wrappers filled with fresh ground chicken seasoned with perfect blend of herbs with a light hint of lemon grass and juice of chili.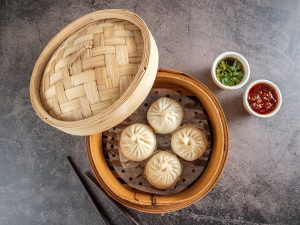 Charred roast Hong Kong inspired pork meat, stuffed into fresh steamed bao and layered with sweet pungent sauce & herbs.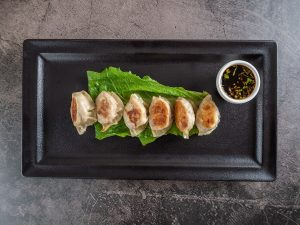 Crescent shaped, hand-crafted dumplings, filled with seasoned chicken , pan-fried to perfection.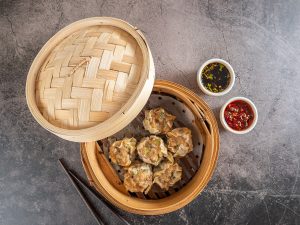 A ubiquitous Cantonese dish of seasoned chicken fillings wrapped in noodle pastries and steamed.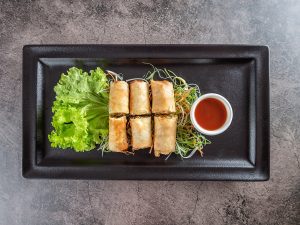 CHINESE SPRING ROLLS (VEG)
A medley of julienned vegetables combined with shitake mushroom & glass noodles rolled into handmade pancakes and deep fried.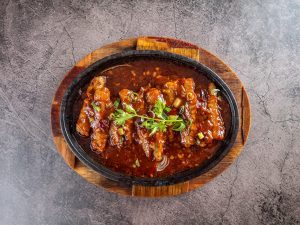 Fried Baby Corn w/ Hot Guilian Sauce (veg)
Whole baby corn seasoned, dusted with rice flour, deep fried and layered with hot lava Guilian sauce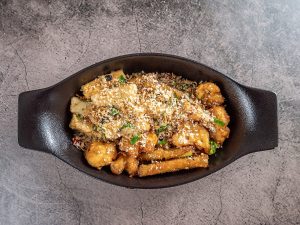 Crisp Fried Cauliflower & Tofu w/Golden Sand
Seasoned cauliflower & tofu coated with light potato starch and crispy fried. Drizzled with crisp fried garlic, panko and spices.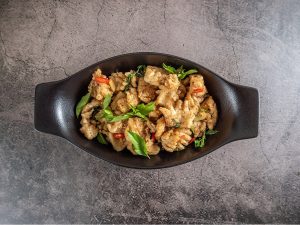 Vietnamese Chili & Pepper Squid
Rice flour and herbs coated squid, crisp fried and wok fried with chilies and toasted pepper with a hint of sweet basil.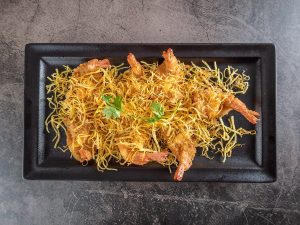 Tantalisingly tasteful. Fresh prawns marinated with spice and herbs, panko coated & deep fried. That's not all. A touch of signature sauce and topped with crisp potato shreds.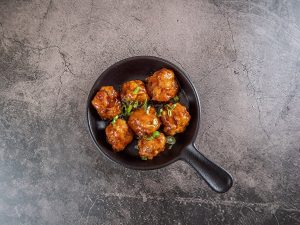 Crispy deep-fried battered prawns or calamari coated with a thick 3 G sauce (Ginger, garlic & green chili) and soy.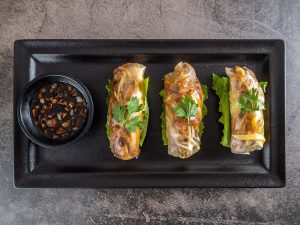 Roast Duck and Rice Paper Rolls
A True Vietnamese favorite with a little twist. Explosion of flavors guaranteed. Roast Hong Kong Duck wrapped into rice paper with fragrant herbs and spices, tropical lychee and a dab of hoisin and sriracha sauce.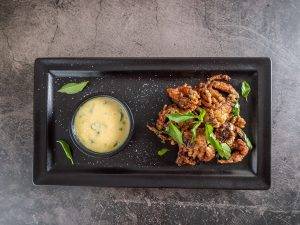 Soft-Shell Crab w/Green Onion Aioli (gluten free)
Seasoned softshell crabs powder coated with potato starch, deep fried. Then sautéed with Asian basil and sprinkled with sea salt and Japanese 7 spice blend. Served with fragrant green onion aioli.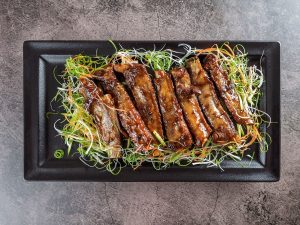 A scrumptious dish of tender barbecued ribs coated with thick Hoisin sauce served on cool cucumber strips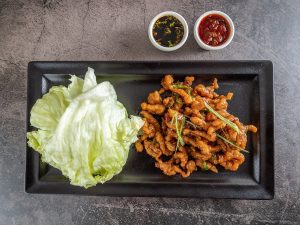 Lettuce Wraps w/ Beef Chicken or Duck
Choose a filling of citrusy tangy crispy duck or crispy beef or opt for crispy chicken shreds, coated with plums & orange marmalade; it just makes a great refreshing appetizer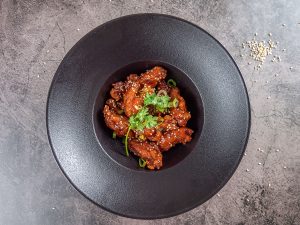 KOREAN FRIED CHICKEN WINGS
Seasoned chicken wings lightly coated with potato starch deep fried and glazed with an immensely rich sauce made up of fresh herbs, spices, honey and the all-important Korean red pepper paste.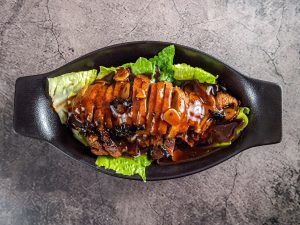 Crispy Duck w/5 Spice Sauce
Oven roasted crispy duck, cut into bite size pieces and layered with a rich brown sauce made of dried red chilies, garlic and 5 spices
Vietnamese Duck W/ Fresh Pineapple Curry
Slow roast duck cut into bite size pieces and braised in a rich broth of spices & herbs. Fresh Pineapple chunks & coconut cream adds a unique taste to the dish
Hong Kong's Roast Savory Duck
Found hanging in every third storefront window is this Hong Kong's own delicacy. Richly marinated from the inside with herbs and spices. Slow roast and glazed with our signature sauce and honey.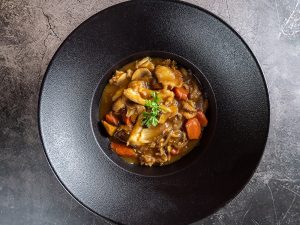 A Japanese version of curried chicken cooked with carrots and sweet potatoes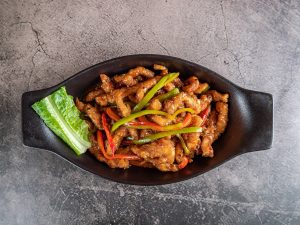 STIR FRIED SESAME HONEY CHICKEN
Crisp fried strips of marinated chicken, paired with leafy greens & bell pepper, sautéed with a hint of garlic, fresh red chili and our own yuzu honey sauce.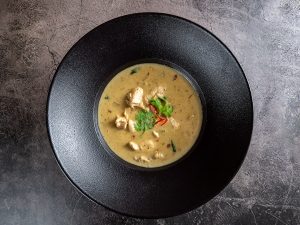 Bali Chicken (gluten free)
A Balinese delight. Chicken cooked in an intriguing blend of coconut cream, enriched with hot spices, herbs and macadamia nuts. Fresh green mangoes impart a perfumed aroma to this delectable dish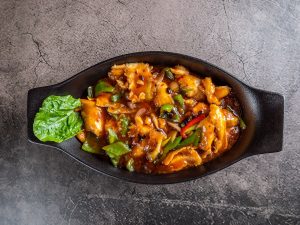 Unique to the province of Sichuan, chicken fillets cooked in a medley of spices, hot red chilies, tongue numbing Sichuan pepper corns and chili bean paste. Sounds Hot.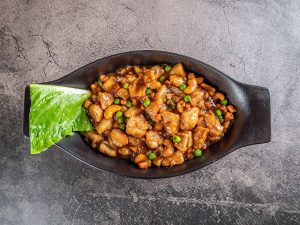 Classic Chicken & Cashew nuts
Simple yet irresistible dish, diced chicken sautéed with cashew nuts, green peas and soya sauce.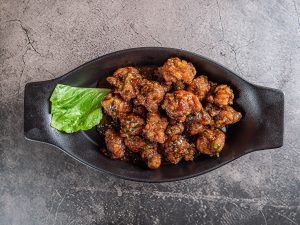 Named after the 19th century Chinese general from Yunnan, the dish embodies the philosophy of Chinese cooking of varied flavors. Toasted spices, citrus flavors of sun dried orange and the sweetness of caramelized soy.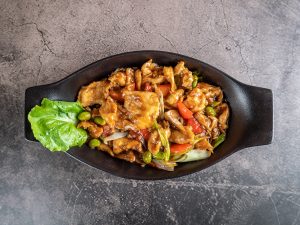 HOISIN CHICKEN WITH EDAMAME & TRUFFLE OIL
Thin marinated sleeves of chicken breast sautéed with hoisin & truffle oil. The cloud ear, edamame beans & mushroom rounds off
a perfectly curated delicacy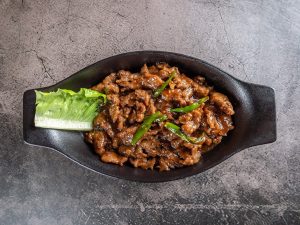 Marinated beef sautéed with fiery fresh green chilies and soy sauce.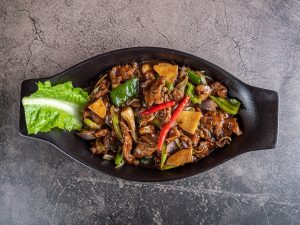 Tender marinated Beef , sautéed with pickled red pepper, ginger, garlic & bamboo shoots in a spicy black bean sauce.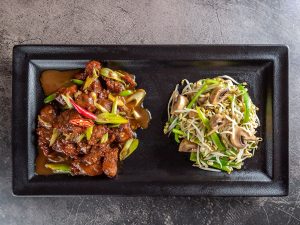 Teppan Yaki Beef Tenderloins
Cubes of juicy tenderloins pan-seared, with drizzle of Teri Yaki sauce & garlic. Served with sautéed bean sprouts, fresh mushroom and green peppers on the side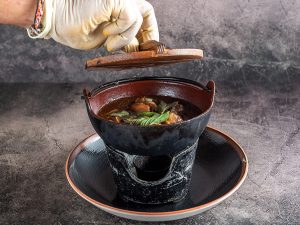 VIETNAMESE SLOW-COOKED BEEF SHORT RIBS IN CAST-IRON POT
Marinated short ribs gently braised in cast iron pot with a unique mix of herbs & spices, creating an irresistible & succulent dish.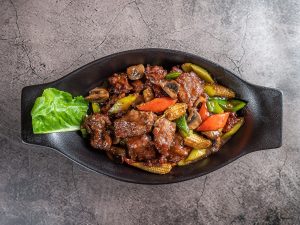 HONG KONG STYLE BLACK PEPPER BEEF TENDERLOIN W/SWEET POTATOES
A classic Cantonese dish. Marinated cubes of beef & sweet potatoes stir fried with signature pepper sauce, with a hint of fresh green pepper corn and spices.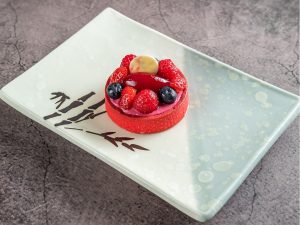 Fresh Beetroot Tart, Almond Vanilla Frangipane, Lychee Raspberry & Rose White Chocolate Crémeux, Lychee Raspberry & Rose Compote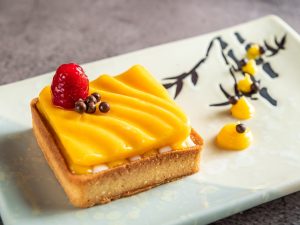 YUZU MANGO & YOGHURT TART
Yuzu Mango Curd, Yoghurt Cream, Matcha Almond Cream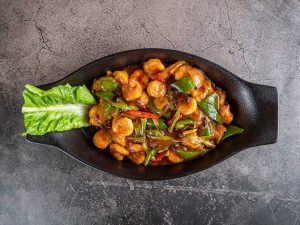 Fiery hot and tongue numbing spices encompasses the prawns, giving you a true taste of Sichuan style cooking.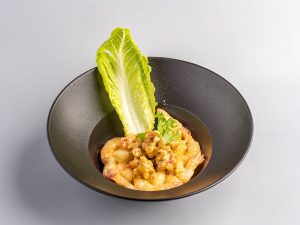 An American inspired, delectable Chinese dish. Fresh whole shrimps powder coated with potato starch, deep fried and tossed with candied honey roasted walnuts and creamy flavoured mayo.
Prawns or Mixed Seafood w/Leeks & Green Pepper in Black Bean Sauce
Prawns or mixed seafood sautéed with leeks & bell peppers, enriched with garlic, chili and black bean paste. Served on a sizzling platter
Prawns w/ Sweet & Sour Peaches
Whole fresh prawns seasoned, coated with potato starch and deep fried. Then cooked in a tangy sauce enriched by sweet peaches. Topped with crisp garlic and leeks.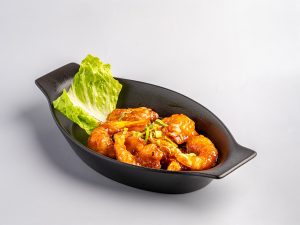 Crisp batter fried prawns coated with a thick gingered & spiced Sambal sauce
GRILLED HONEY GARLIC SALMON W/SAUTÉED ENOKI MUSHROOM
Marinated salmon steaks, coated with a rich Asian  sauce and lightly baked, served with sautéed mushroom.
Balinese Chili Fish (gluten free)
Bursting with flavors from fresh spices, mint & juice of lime. A classic Balinese style of incorporating diverse tastes. Chopped toasted brazil nuts to round it off.
Chrysanthemum Fish with Spicy Guilian Sauce/Sweet & Sour Sauce.
Fresh hamour fish steak, expertly cut, seasoned and coated with a fine layer of corn starch, deep fried into a shape of chrysanthemum. Layered with a spicy or sweet and tangy sauce
Cantonese Style Steam Hamour
Whole Hamour seasoned with salt, ginger & spring onions, steamed just right and dressed with sesame soya dressing.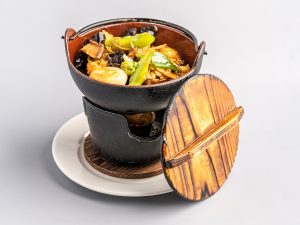 Fisherman's Hanging Iron Pot
A simmering mix of scallops, prawns, fish & squid enriched with herbs & spices, cooked in a cast iron pot with cellophane noodles giving it a unique texture.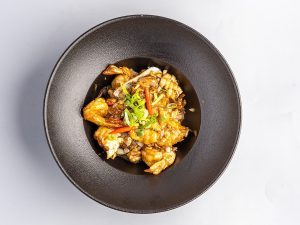 Myriad of fresh seafood combine with dried shrimps sautéed with onions, garlic & in – house spice sauce.
Malay Sambal Squid (gluten free)
Unique to Malaysian style of cooking, squid cooked in heady mix of hot chilies, herbs and spices, the juice of tamarind and sweet palm sugar just enhances the taste.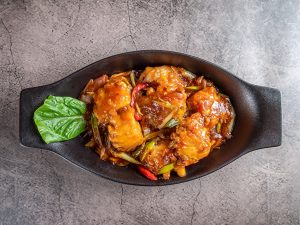 Singapore Deep Fried Chili Crabs
Fresh Whole crabs cooked in a wonderfully balanced red chili and herb sauce with a dash of egg to round it off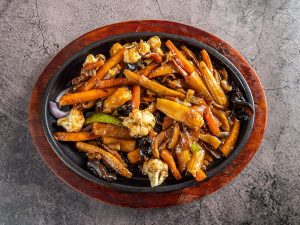 AROMATIC SIZZLING VEGAN GRANDE
A balanced mix of prime vegetable, butternut squash and sweet potatoes sauteed with aromatic herbs and spices set on a sizzling platter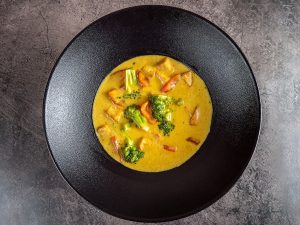 SWEET POTATO AND PEANUT VEGAN CURRY (CONTAINS NUTS)
Mildly spicy but immensely flavourful red curry with a hint of coconut. An array of vegetables and herbs makes this dish irresistible. (Sweet potatoes, string beans, bell peppers, broccoli & fresh tofu)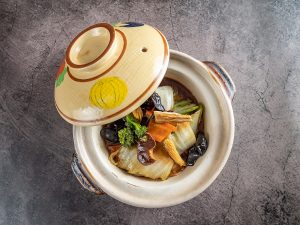 A seamless marriage of fresh Asian green with blanched tofu sticks & shiitake mushroom, braised in clay pot with a hint of herb and oyster sauce or opt for mushroom sauce if you prefer vegetarian flavors.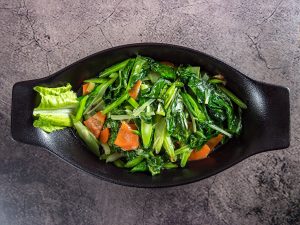 Fresh green leafy Asian vegetables flash fried in a wok with burnt garlic & soya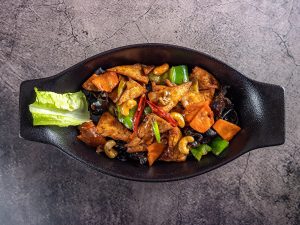 Chili Tofu with Cashews & Fragrant Vegetable
Fried tofu sautéed with in house chili garlic sauce w/ cashews and an abundance of fragrant vegetable & Mushroom
SINGAPOREAN LAKSA FRIED RICE (SEAFOOD VERSION ONLY)
Uniquely Singaporean way of blending cross cultural delicacies. Chinese style fried rice stir fried with spicy aromatic laksa paste, dried shrimps, fish cake and a hint of coconut cream.
A delectable Indonesian national dish. Fried rice with multitude of fillings enriched with herbs and spices exclusive to Indonesian style of cooking
Classic Home Style Chinese Fried Rice with choice filling
Fried rice originated from the kitchens of Chinese homes, where left over rice was made palatable by infusing it with various fillings and spices. Over the years it has become synonymous with Chinese cooking.
Fresh Pineapple Fried Rice
From the hot tropical south east Asian nation comes this ingenious way of combining rice and fruits.
A heady mix of spices and herbs makes this Vietnamese form of fried rice irresistible.
Malaysian Style Stir Fried Noodles
Wok fried fragrant noodles sautéed with Asian Greens and bean sprouts with fresh grounded chilies and herbs.
Chow Mein with choice fillings
Traditionally Chinese, stir fried noodles with vegetables and shiitake mushroom with choice fillings
Phoenix & Dragon Over Noodles Pancake
Traditional egg noodles, pan fired or baked. Crisp on the outside, soft from the inside. Topped with sautéed seasoned chicken & fresh shrimps accompanied with snow peas & bell peppers, with a hint of spices.
Rice noodles stir fried with a mix of julienned vegetables and egg. The mix of filling is your choice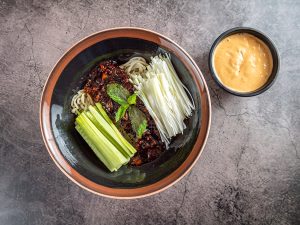 Dan Dan Mein-A spicy Sichuan Noodles
Be warned! It is hot & spicy. Soft blanched noodles topped with sautéed ground meat with Sichuan pickled veg and herbs. Layered with a rich creamy sauce of sesame paste and chili oil.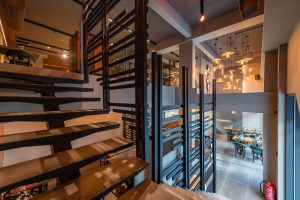 Our Asian Inspired Quenchers
We have a good collection of Asian inspired beverages for you. from Vietnamese Egg Coffee to Pistachio Latte and many more. Mango & Kale Smoothie will sure fire your imagination.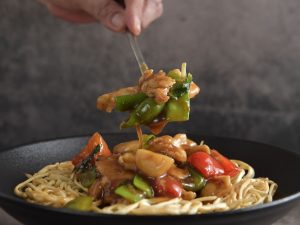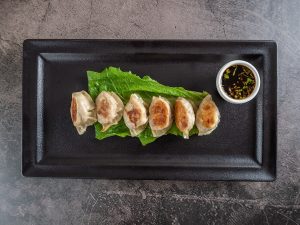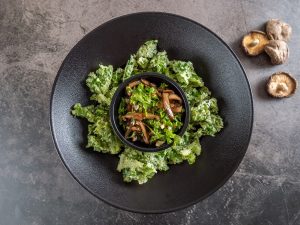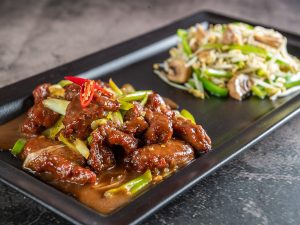 Teppan yaki beef tenderloins
HOT CHOCOLATE HAZEL PRALINE
Vietnamese egg coffee is a beverage originating from Vietnam, more specifically from Hanoi in the 1950s. A beautiful foam
from the beaten egg yolks blend with the delicious aroma of Vietnamese filter coffee. Unique & amazingly delicious.
HAVE MERCY ON ME (TRIPLE CHOCOLATE DRINK)
FLORAL POWER HIBISCUS PLUM GINGER TEA
Uniquely Refreshing Asian Drink. Specialty Black Tea Infused with Ripened Plums And Hibiscus With A Hint Of Ginger.
LIFE'S TRULY A PEACH FRESH PEACH & MATCHA BLENDED
THE GREEN LIGHT MATCHA TEA W. BOBA
VEGAN MATCHA LATTE WITH COCONUT CREAM
HONG KONG STYLE ICED CHAI
Gunpowder is a Chinese green tea with leaves tightly rolled into little pellets. Chinese word for this tea is zhu cha – or pearl tea. It's believed that Gunpowder first appeared during Tang Dynasty, more than 1000 years ago, making it one of the oldest green tea types in the world.
JASMINE PEARLS (MO LI ZHEN ZHU)
Jasmine Pearls is a delight to watch unfold as well as to drink. This tea is certainly one of China's finest jasmine offerings. Exquisite aroma. When brewed, the pearl releases a sweet and delicate flavor with the fresh scent of jasmine.
Dragon Well dates its place in tea history to the Qing Dynasty, first enjoyed by the emperors Qianlong and Kangxi. Crisp flavor
and a rich vegetal aroma. Lot is fresh and invigorating. Sweet & nutty, with a hint of chestnut-like notes.
SUPERFOOD GREEN DETOX SMOOTHIE
A medley of salad leaves, blended with avocado, dates, pomegranate & coconut milk.
Fresh ripe mango blended with leafy kale, banana and almond milk. with a hint of vanilla
TANGY KUMQUAT JUICE & SMOOTHIE
Citrusy kumquat blended with fresh orange juice & pears with a hint of lime and coconut infused almond milk.
Fresh lime blended mint leaves, sweetened with agave syrup, stirred with chia seeds and topped with sparkling water.
SPARKLING POMEGRANATE JUICE
Cold pressed fresh pomegranate juice topped with natural sparkling water.
SUPER POWERED ORANGE JUICE
A balanced blend of freshly squeezed orange juice with tender carrot, nectarine and apple with a subtle hint of ginger root and lemon.
Fresh tomato juice, celery and baby spinach, flavored with a dash of tabasco, lime, Worcestershire sauce and a hint of sea salt & black pepper.
A delightfully refreshing kiwi fruit drink with a little fizz.